Fromagerie Milleret stands as a testament to the enduring legacy of artisanal cheese-making. Established in 1921, this cherished family-owned company has been a cornerstone of the French cheese industry for over a century. Throughout time, Fromagerie Milleret has remained steadfast in its commitment to tradition and quality. Employing time-honored techniques and employing only the finest locally sourced ingredients, the company has mastered the art of creating exceptional French cheeses that captivate the palates of connoisseurs around the world.
What is your passion? Tell us about it.
A. French cheese
What inspired you to pursue this passion? Tell us the story.
A. Family owned company created in 1921
What makes your creation unique?
A. Soft french ripened cheese
Tell us about your creative process.
A. The French cheese tradition
Who is your audience? How do you engage them?
A. All people loving cheese
What experience does your passion create? What can recipients expect?
A. Nice cheeses from France
Where can your creations be found?
A. Supermarket
What is next?
A. Sell more in the us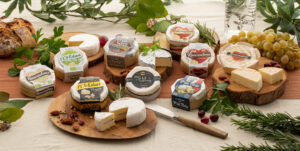 https://www.curdistheword.com/post/q-a-with-chlo%C3%A9-petit-of-fromagerie-milleret